NOW AVAILABLE: IVAN'S AUTOBIOGRAPHY!
"Is That Wrestling Fake?"
Direct from Crowbar Press, Ivan's book is now available here for the first time.
For the first time, Ivan tells the story of his life: the highs and the lows; his admission of alcohol and drug abuse; reflections of a life spent on the road, and the toll it took on his body and soul; and the event in Kannapolis, North Carolina, that forever changed his life .
Please allow 3-4 weeks for delivery on all orders
PHOTOS
Ivan gets pictures and plain index cards as well as wrestling cards, etc. from fans to autograph and most times there is no return envelope;
We will stamp with Ivan's authentic signature anything you would like to send, such as a photo or card from your personal collection; however; you must enclose return shipping (stamped envelope, etc.) and a $6.00 handling fee per item.
(Any items that does not include the handling fee will not be returned.)
We suggest that you send all articles via Registered Mail.
ALL ORDERS AND REQUESTS for Photo's
1. Order by #
2. All photo's are $10 which includes shipping and handling
3. Please indicate who you want the picture signed to
4. If ordering by mail, MONEY ORDERS and CERTIFIED CHECKS ONLY PLEASE (Mailing address is located on the contact page)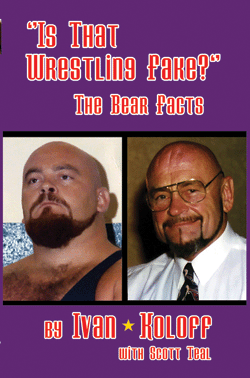 You can click on the Book cover and go directly to CrowbarPress.com and order your copy!
#1
#2
#3
#4
#5
Donate to the "Ivan Koloff Memorial Fund" at Gofundme.com, or thru PayPal, or PO Box 2673 Winterville, NC 28590
Thank you so much for your donation! God bless you! Make checks payable to Renae Koloff.
USSR Flag like the one used by Ivan in the ring!
$30.00
(Includes Shipping and Handling)
Allow 2-4 weeks for delivery
The Very Best of Ivan Koloff
Wrestling DVD
$20.00
(Includes Shipping and Handling)
$25.00
(Includes Shipping and Handling)
Ivan Koloff
Documentary DVD
Disc 1 Listing:
Early Years
Red McNulty
Becoming Ivan
WWWF Champion
IWA
Bouncing Around
Nikita
Krusher
Nikita's Turn
Independents
Testimony
Preaching
Ivan's Legacy
Disc 2 contains bonus matches, stories, and special features.
Ivan Koloff: The Russian Bear takes a look back at one of wrestling's most hated villains over the last several decades. Learn about Ivan from his Canadian roots to how he became the Russian Bear we all know to this day. Ivan is respected worldwide for his contributions to the wrestling business.
Nothing in this documentary is left out as Ivan discusses his start in the wrestling business, being Red McNulty, becoming a hated Russian, and talks about the highs and lows his life had before becoming a born again Christian thanks to his nephew Nikita. Ivan reflects on what it meant to be at the top of the wrestling world by defeating Bruno Sammartino and being on top in every territory he went, to the pitfalls of drugs and the fast life outside the ring.
Ivan's story is one of redemption and faith as he will tell you, "This wrestling isn't fake." Ivan has given his heart, soul, and body to the fans of professional wrestling. Now Ivan gives you the real story behind his life in an out of the ring
Save $5 when you purchase both DVD's for $40.00!
(Includes Shipping and Handling)
Order a cool Ivan Koloff t-shirt!
Click on t-shirt to get yours today!